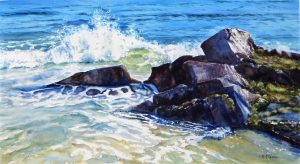 Opening reception Thursday, May 16th, 6pm
Cape Breton Centre for Craft & Design is pleased to introduce Journeys to the Shore, an exhibition of shoreline watercolour paintings by Sydney artist, Nancy McLean. The exhibition, which features 20 works, is now on display in the Centre's main gallery. Journeys to the Shore represents a small sampling of Nancy's visits to Cape Breton's coastlines including Louisbourg Lighthouse, Kennington Cove, Inverness, Little River Harbour, Ingonish, and Cape Breton Highlands National Park.
Nancy grew up in Sydney, has a BFA from NSCAD, and enjoyed teaching art in many schools throughout Cape Breton. She is a watercolour artist inspired by the creative energy that surrounds one when living in Cape Breton. Through her paintings, Nancy strives to capture a moment in time, attempting to still the constant movement, to delay the action in order to appreciate the immediate form.