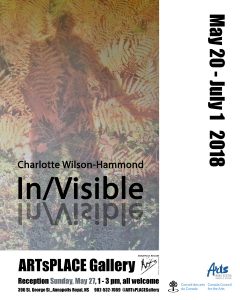 Charlotte Wilson-Hammond's exhibition, In/Visible, will be coming to ARTsPLACE, Annapolis Royal, on May 20th. There will be a reception on Sunday, May 27, 1-3pm.
In/Visible
'My shadow rests lightly on the land…fleeting and ephemeral'
During the last fifty years, Charlotte Wilson-Hammond has used her body as a way of accessing the strength, sensuality, vulnerability, beauty, and now the fragility of the female form, all part of the eternal cycle of birth, growth, regeneration, and death.
Three years ago, the artist began a new series of conté drawings and shadow photograph/print/drawings, once again using herself as the subject. In this new work, Wilson-Hammond reflects on the fragility, vulnerability and yet the beauty and strength of this timeless human condition, noting that one of the most mystifying aspects of aging is that one's presence is diminished within the general public, often to the point of invisibility. The final body of work consists of large (3'x 41/2') drawings using photographs of Charlottes's shadow in the landscape. These are then digitally manipulated, printed on semi-transparent mylar with the resulting image then worked with coloured pencil.
For the curatorial component, Wilson-Hammond had proposed Tila Kellman as the curator for the exhibition. Unfortunately, Tila was in a tragic accident in May 2017, and is now is a nursing home. Because of this, the work has taken on another dimension, emphasizing the truly transient nature of life. Katie Belcher, artist and former director of Eyelevel Gallery stepped into the role of curator.