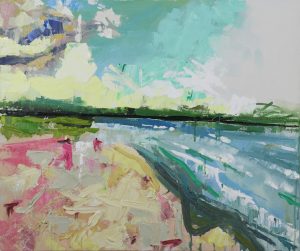 My landscape paintings are freely and organically constructed with an emphasis on colour and mark making. I most often paint scenes that are on or adjacent to a body of water, the majority being coastal scenes along the South Shore. I love the raw, natural, ever-changing seascapes and often find myself returning to them time and again. However, the way the painting is executed holds more value to me than the subject. Regardless of what or where I am painting, I believe the manner in which the paint is handled should be a novelty for the viewer in and of itself. I use exaggerated colours and employ several different painting methods in a single work in an attempt to achieve this end result.
Matthew Collins, Summerville in a Blur, Acrylic on canvas, 2018
Matthew Collins, Night Coming at Summerville, Acrylic on canvas, 2018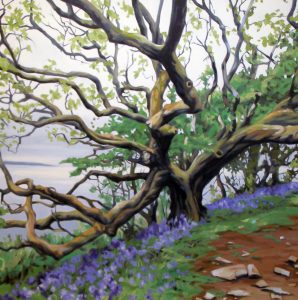 I believe any object can carry a powerful message and I don't want the viewer to depend on verbal explanations of my work. Instead, I offer a direct encounter with the subject I have interpreted in paint. When portraying trees, I want to give a dignity and directness that transmits the sense of a lived presence; although they are never idealized, they convey an atmosphere of physical and psychological beauty. Each tree is a living individual and a forest is a place of magic and comfort. The quality of the light and how it attaches to branches and trunks gives the sense of permanence and peace that most people absorb from a walk in the woods. The extraordinary personality and loveliness of each tree moves me to paint them much as artists have always painted the human figure; as a deeply meaningful object.
Shelley Mitchell, The Old Tree and the Sea, Oil on canvas,2018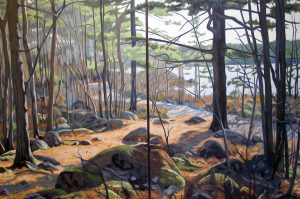 Shelley Mitchell, A Walk in the Woods (diptych), Oil on canvas,2018