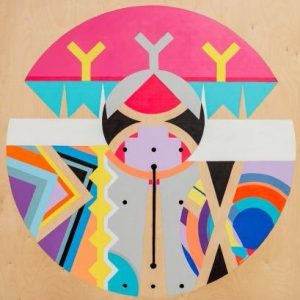 Jordan Bennett, Nisqanamuk Kmtn, 2015, Acrylic on cradled wooden panels , 91.4 x 91.4 cm. Photo Credit: Candace Kennedy
With a focus on Mi'kmaq and Beothuk visual culture, Jordan Bennett's practice utilizes painting, sculpture, video, installation, and sound to explore themes of land, language, the act of visiting, and familial ties. In doing so, Bennett challenges colonial perceptions of Indigenous histories, stereotypes, and presence.
For this solo exhibition, titled Ketu' elmita'jik, Bennett has been invited to create a site-specific wall painting that responds to the architecture of the gallery space. Drawing influence from historical and pop cultural references, Bennett's new composition, together with examples of recent work, will result in an immersive environment that (re)considers the institutional mechanisms through which Indigenous peoples and practices are often framed.
In arriving at this installation, the artist has researched Mi'kmaq objects from Nova Scotia's Permanent Collection and other institutions, expanding upon their patterning and iconography within the mural format alongside which they are displayed. In this context, these 'artifacts' aren't seen as static 'things' rather they are to be looked at as very active objects that are engaged in an ongoing conversation between the past and the present.
Ketu' elmita'jik – meaning "they want to go home" in the Mi'kmaq language – is the artist's first solo exhibition in Nova Scotia and will involve an artist residency at the Art Gallery of Nova Scotia and be accompanied by a publication.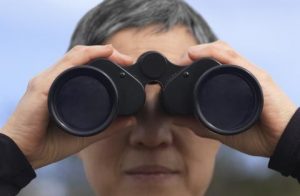 Jin-me Yoon, Long View, 2017 (detail) 6 C-prints, edition of 5, 83.8 x 128.2 cm
A Sense of Site engages the practices of 12 contemporary artists working in response to diverse settings and communities across the land. Though ranging in approach, common ground can be found in the collective re-examination of our dialogue with the natural world in the face of present-day issues such as climatic crises, the legacies of colonialism, and the complex relationship between nationhood and cultural identity. In addressing concepts of place, environment, and belonging, this exhibition looks to subject matter of shared importance while highlighting the role of art as a catalyst for discourse and social change.
A Sense of Site draws upon the conceptual framework of Landmarks2017/Repères2017, a cross-Canada project that invited people to explore and deepen their connection to the land through a series of commissioned contemporary art projects in and around Canada's National Parks and Historic Sites.
Landmarks2017/Repères2017 was created by PIA. www.partnersinart.ca