Gallery 1

2018 marks the 50th anniversary of the Anna Leonowens Gallery with over 40 years occupying several store fronts in NSCAD University's historic Granville Mall. Throughout the year the gallery staff and guests will be mounting exhibitions celebrating it's collection and the  4400+ exhibitions and projects the gallery has supported throughout its history.
Dan Graham's Sunset to Sunrise consists of 160 colour photographs that "maps the topologically extended time/space defined in the title." 80 photographs are taken at sunset at an interval of 6 seconds with an 18 degree shift left in orientaion at a slight incline for 2 minutes. This schema is reversed the following morning at sunrise. Created in 1969 the work originally appeared in the Mezzanine Gallery in 1972 while Graham taught in David Askevold's Projects Class
Gallery 2
NSCAD/ACAD: 2018 Printmaking Exchange, group exhibition 
Comprised of new works by graduate students, senior undergraduates and faculty from ACAD and NSCAD Universities, this exhibition showcases a vast array approaches to research and practice through printed means.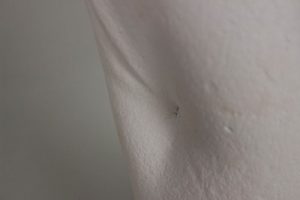 Gallery 3

With this body of work, Covey explores the relationship between clay and glaze as it relates to human biological structure and skin. This vulnerable exhibition is inspired by the artist's first-hand struggles with dysmorphia and speaks to his experiences as a mixed-race individual