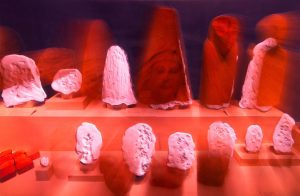 The Fairest Order in the World
The Fairest Order in the World is Nova Scotia's first exhibition of works by Cape Breton-born, Toronto-based interdisciplinary artist Sameer Farooq. Curated by Mona Filip, the exhibition offers a poetic and thought-provoking exploration of museums' colonial histories through a mixed media installation that probes notions of provenance, repatriation, and repair.
The works in the exhibition prompt visitors to reflect on the fraught and violent histories that have prevailed in these institutions over time and envision what they might become through the mechanics of restitution, what they may shift to collect and document, and what kind of experiences they could nurture.