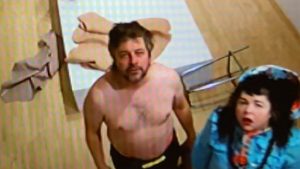 M. Gros
Opening: November 11, 4 – 6 p.m.
Performance as of 4:30 p.m. | Performance collaboration: Stefan St-Laurent
Artist talk (in French): November 12, 9 :30 – 11 :30 a.m. Dieppe Arts and Culture Centre.
Geneviève & Matthieu's installation-performance M. Gros is inspired by the Canadian investigative technique known as Mr. Big, which allows a police officer, undercover, to obtain a confession from a suspect of a serious unsolved crime. Led by shape-shifting characters, living sculptures, binomial weapons and a televisual sound environment, M. Gros tackles issues of identity such as surveillance, infiltration, idea theft and copying; but beyond the classics of investigative games, the story mostly stages a contemporary artistic flora.
The duo Geneviève & Matthieu, from Rouyn-Noranda, Abitibi-Témiscamingue, emerged in the late 1990s. Their work combines art, performance, music, and daily life. Using interdisciplinary practices, from happening to music composition and from performance to installation, this duo creates collective performances and stagings of sometimes festive but always human social scenes.
This project is presented as part of the Media Arts component of the Festival international du cinéma francophone en Acadie (VAM-FICFA). The exhibition will be on view from November 11 to December 18, 2022. Opening hours are from 1 to 4 p.m. from Tuesday to Sunday and until 8 p.m. on Thursdays.
The artists would like to thank their creative support partners, Galerie Pierre-François Ouellette art contemporain, La Chapelle Scènes Contemporaines, the Fonderie Darling and Salon58. The creation of this work is made possible by the financial support of the Conseil des Arts et des Lettres du Québec and the Canada Council for the Arts.