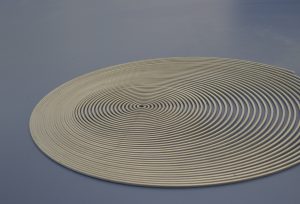 The Nova Scotia Talent Trust was founded in 1944 and has been awarding scholarships to visual artists since 1949. To celebrate the 75th anniversary, a call was placed to past scholarship recipients for recent work for inclusion in a touring exhibition. First You Dream: Celebrating 75 Years of the Nova Scotia Talent Trust highlights the practices of ten artists who were chosen by the selection committee, representing a broad range of media including drawing, ceramics, fibre, jewellery, mixed-media, painting, printmaking, sculpture, and video.
Organized by MSVU Art Gallery in partnership with Cape Breton University Art Gallery and the Art Gallery of Nova Scotia.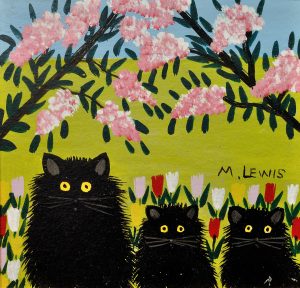 Maud Lewis, Three Black Cats, 1960s, Oil on pulpboard, 30.0 x 30.8 cm. Private collection.
An adjunct to the Terroir: Then and Now exhibition, this focus on Maud Lewis showcases examples of her artwork and is especially appropriate given the importance of Yarmouth as a place in her life. Her paintings clearly draw from her surroundings and memories from her childhood. From views of oxen teams working the fields to lighthouses standing watch along the rocky shores, Maud Lewis' paintings reflect the spirit of rural Nova Scotia and a life inextricably bound to the land and sea.
Maud Lewis (1901-1970) was born to John and Agnes Dowley on the Yarmouth and Acadian Shore of Nova Scotia. Although there is some debate about her exact birth place, recent research has revealed that Maud was born in the town of Yarmouth, Nova Scotia. The backdrop of her playful and colorful images, her only experience of the world extended to an area between her birthplace in Yarmouth County and her married home in Marshalltown, Digby County.
In the world of folk art Maud Lewis is a legendary figure. Her life and accomplishments have been celebrated far and wide in nationally touring exhibitions, publications, and, most recently, on the silver screen in the 2017 cinematic release Maudie.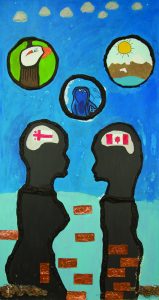 Guiding Principles is an installation of
ArtsSmarts
Nova Scotia 2018 project artwork. It was produced by Grade 8 students at Sherwood Park Education Centre in Sydney, Nova Scotia. An exhibition of full scale representations of the installation panels will be on exhibition at the Cape Breton Centre for Craft and Design from May 22 until June 7, 2019
For this project, local visual artist Kate Adams guided Elizabeth Lalonde and her Grade 8 students through an in-depth study of Dene Suline artist Alex Janvier's monumental artwork, Morning Star. The students also studied the Seven Sacred Teachings, a set of teachings on human conduct towards others. Many Indigenous groups follow their guidance.
Inspired by the teachings and Janvier's Morning Star, the students developed a design for Guiding Principles, the large-scale mural now hanging at Sherwood Park Education Centre. The mural reflects these Teachings and also focuses on resilience, respect, relationships and reconciliation.
"Over the years I have learned that our students are more willing to create, share their ideas, thoughts, and knowledge when asked to make something for someone else. In this project they will be the role models; showing their fellow students, as well as school staff and the larger community, how to navigate through school life."  – Elizabeth Lalonde, teacher at Sherwood Park Education Centre
This exhibition was made possible through the Art Gallery of Nova Scotia's ArtsSmarts Nova Scotia program with the generous support of Arts Nova Scotia and the Nova Scotia Department of Education.