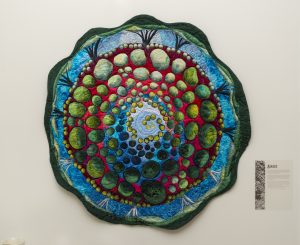 Lorraine Roy, Source, 2015, 45×45
Woven Woods & In Our Hands
This two-women show combines the textile mandalas of Lorraine Roy and ceramic vessels by Wendy Shirran–both with a message of interconnectedness and consequence.
Textile artist Lorraine Roy creates circular wall hangings that are mandalas and ceramic artist Wendy Shirran creates handmade vessels rich with thought-provoking images.  In Woven Woods, Roy brings to our attention the life network found in the macro and microcosm of trees.  She picks the circular shape because it represents eternity and is found throughout nature–even in a tiny spore.  In Our Hands explores how we create, maintain and appreciate our province's culture.  Shirran uses imagery, texture and surface treatments as communication on her hand-made porcelain vessels.  Additionally, she invites the public to engage as they sip water from dedicated water cups.
Wendy Shirran is a St. John's based ceramic artist and Lorraine Roy is a textile artist based in Dundas, Ontario.