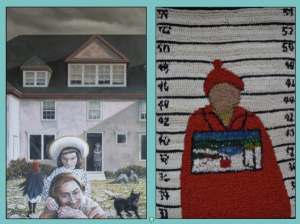 Whose Maud
The exhibition, Whose Maud?, presents the work of rug-hooker Laura Kenney and painter Steven Rhude.
The exhibition takes as its central question: Whose Maud? in that there are many interpretations of Maud as artist, as individual, as folk art icon. The artist and her work have come to symbolize a bucolic rural landscape, but this stands in stark contrast to the harsh realities of her life.
The artists Kenney and Rhude, by researching, repositioning and reconsidering, through their own art practice, beg the audience to question, Whose Maud?