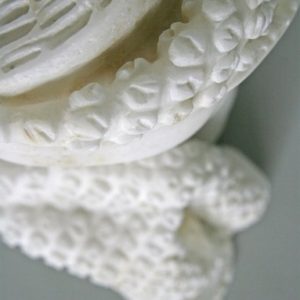 Candice Davies, Bubblewrap, Stone, 2018
To Be Announced
Sculptor Candace Davies replicates humble, daily objects in Italian alabaster and African wonder stone.
A roll of bubble wrap, green painter's tape or a power bar are objects commonly found in a gallery setting as tools.  Candace Davies, however, transforms them into stone sculpture and objects of inquiry.  She fools the eye with her stone illusions and poses questions about perception, value systems and what we deem art.  Davies strips away the utilitarian nature of everyday objects and places them on a pedestal by rendering them in stone.
Candice Davies is based in Toronto and has shown her perception bending work in a variety of Montreal galleries.