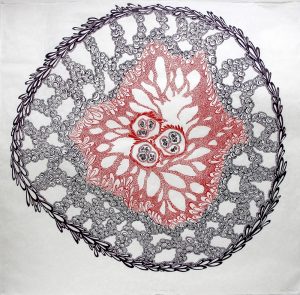 Maria Doering, The Creative Soul, Linocut print, 2016, photo: the artist
Untitled
Justine MacDonald is an award-winning photographer, writer, and world traveler. She enjoys using these pursuits to explore history, and the world in general, through travel. Her focus is on creating architectural and abstract images.
Maria Doering is a German multidisciplinary artist and printmaker, living and working in Dartmouth, Nova Scotia, since 2012.
James Axon, in each artwork, tries to reduce the image to the core components, creating a highly detailed drawing within a simple composition that captures the movement or tension inherent in the encounter.