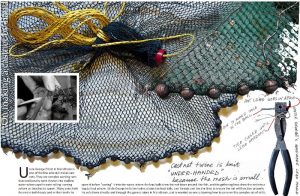 Towards an Encyclopedia of Local Knowledge Chapter 3: The Middle River
Middle River of the ongoing collaborative project Towards an Encyclopedia of Local Knowledge (ELK) initiated by St. John's based artist Pam Hall in 2010. The Encyclopedia of Local Knowledge harvests intangible forms of knowledge and skill through rigorous collaboration and community-based engagement. Chapter 3: The Middle River is a collaboration with Mi'Kmaw artist, Jerry Evans, researched in partnership with Miawpukek First Nation (MFN) and the people of Miawpukek/Conne River. The encyclopedia's intent is making visible the many forms of knowledge possessed by the people and places in and of rural Newfoundland. Traditional understandings of knowledge, position science-based ways of knowing as authoritative and all-encompassing, this collaborative project works to expand, deepen and make visible, other forms of knowing. These forms of knowledge are often locally-based and can make significant contributions to planning sustainable futures for marginalized rural communities in our province.
Chapter 3: The Middle River is based on more than three months of research in Conne River Newfoundland, collecting and recording place-based knowledge by more than 70 collaborators. These pages graphically record and reveal rich locally based understandings of ecology, fishing, food preservation and harvesting, as well as some traditional Mi'Kmaw customs, cultural values and ways of being. This chapter follows on chapters based in communities on the Northern Peninsula, Bonne Bay, Fogo and Change Islands, Newfoundland.