Artist's Talk – Saturday 25 February at 2 pm. Tove Storch will present an illustrated talk about her work. The event will take place in Seton Academic Centre, Room 503, followed by a reception in the Art Gallery.
Tove Storch's first solo exhibition in North America follows a three-week production residency in the Art Gallery.  The young Danish artist has already exhibited at venues in Europe, New Zealand and Brazil. She recently completed a residency at the International Studio and Curatorial Program, New York.
Storch's sculpture emphasizes process, physicality and the unique properties of materials.  These characteristics are reminiscent of minimalist and post-minimalist practices of the 1970s.  Her new work engages with the gallery's two-storey architecture, deploying a forest of narrow metal rods to span the distance between floor and ceiling with an effect similar to that of a drawing.
Tove Storch, untitled, preliminary sketch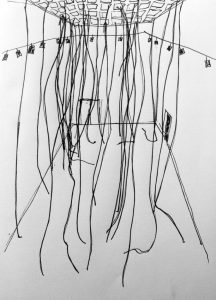 Tove Storch, untitled, preliminary sketch