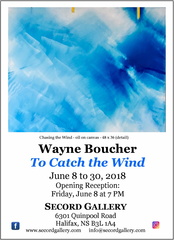 To Catch the Wind
"To Catch the Wind" is a melding of three painting strategies that have come together to form this
exhibition. They include work from "A Gathering of Angels", the "Holding" / "Moulin Rouge" series,
and also the 2018 "Floribunda". series. "To Catch the Wind" simplifies notions, and sensibilities of
mark-making into a cohesiveness of intent, paint application and implied meaning or interpretation.