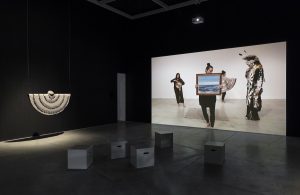 The One Who Keeps on Giving
The exhibition's title is the translation of Hupfield's late mother's Anishinaabe name.  The mother's painting of Georgian Bay is framed by two filmed performances by Hupfield and her siblings, reviving connections among kin. Throughout the exhibition tour, a live performance revisits themes of connection. Additional works include handmade felt replicas of objects such as mitts, boots and a canoe, contextualized with videos showing their animation in performance.
The exhibition is a production of The Power Plant Contemporary Art Gallery, Toronto in partnership with Southern Alberta Art Gallery, Lethbridge; Galerie l'UQAM, Montréal; Mount Saint Vincent University Art Gallery, Halifax; and Canadian Cultural Centre, Paris. It was sponsored by TD Bank Group and supported by Julia & Robert Foster, in addition to the financial support of the Ontario Arts Council and the Canada Council for the Arts.
PERFORMANCE  Saturday 17 March at 2-4pm
Artists Raven Davis, Ursula Johnson and Amy Malbeuf (resident artist at NSCAD) have been invited by Maria Hupfield to join her in a performance in the gallery. The artists will activate selected works from the exhibition, generating a multi-sensory spectacle and exchange of ideas across cultures and disciplines.
Hupfield's collaborative approach to sustaining trust and support is informed by her seven-year involvement in the Brooklyn Performance Art community.
A relaxed reception with refreshments will follow the performance. ASL interpretation will be provided.