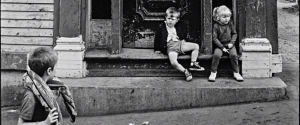 Ian MacEachern (Canadian, b. 1942). Children on Steps, Elliot Row (detail), 1969. Photographic print on paper, 24.1 cm x 35.6 cm. Collection of the artist.
The Lost City: Ian MacEachern's Photographs of Saint John
For the first time, a Beaverbrook Art Gallery touring exhibition opens in Saint John – and for good reason. Seventy-five black-and-white photographs drawn from the artist's exceptional archive are presented, depicting 1960s life along Main Street in the city's North End before 'urban renewal'. Poignant and sublime, these narrative photographs are among the finest visual documents of social conditions and urban life ever taken in Canada. Following the Saint John presentation, the work will tour to Fredericton and beyond.
Curated by John Leroux and organized by the Beaverbrook Art Gallery. Supported by the Canada Council for the Arts, Commercial Properties Limited, and the Harriet Irving Endowment.