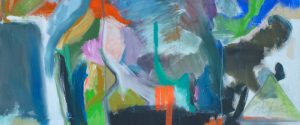 Julie Caissie (Canadian). Objet (detail), 36" x 36", acrylic on canvas. Collection of the artist.
Studio Watch: Emerging Artist – Painting, 2019: Julie Caissie
The Studio Watch Emerging Artist program is dedicated to the presentation of work by emerging painters in New Brunswick. Supported by Earl and Sandy Brewer, this exhibition celebrates these artists and provides them with an opportunity and prestige of a first solo exhibition in a major art museum. A purchase award is also provided.
Julie Caissie is an Acadian visual artist from Moncton, New Brunswick. Attracted to unfamiliar or contradictory universes, her artistic process explores the subtle relationships where painting, photography, performance, and sculpture meet and intersect to become interdisciplinary.