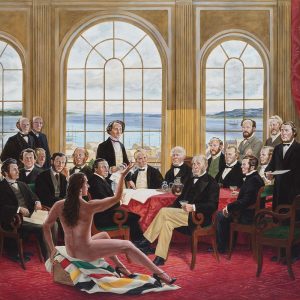 Shame and Prejudice: A Story of Resilience
Kent Monkman's Shame and Prejudice: A Story of Resilience was created as a response to Canada 150 sesquicentennial celebrations. Kent Monkman's gender bending, time travelling alter-ego, Miss Chief Eagle Testickle is the guide on a journey through Canada's history that starts in the present and takes us back to the years around Confederation. Miss Chief leads us through the harsh urban environment of Winnipeg's north end and contemporary life on the reserve, and all the way back to the extermination of the bison, addressing some of the darkest chapters of Canada's past and narrating a story of Canada through the lens of First Nations' resilience.
Image: Kent Monkman, The Daddies (detail), 2016. Acrylic on canvas. Collection of Christine Armstrong and Irfhan Rawji.