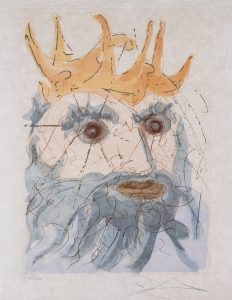 Salvador Dali, King Saul (from Our Historical Heritage series), 1975, Colour drypoint with pochoir colouring on Japon paper, SA 3/300, 56.7 x 39.9 cm. Gift of Janet and Zachary Jacobson, Ottawa, Ontario, 2012.
Salvador Dali, A Suite of Prints
Salvador Dali, A Suite of Prints includes all eleven engravings from Salvador Dali's Our Historical Heritage Suite (1975). This work has been eclipsed by his earlier widely acclaimed surrealist paintings that he is famous for, uncovering a link between Dali's highly symbolic surrealist work and his exploration on religious themes that recurred throughout his career. This series reveals a side of Dali's practice that was influenced by classical Italian Renaissance and his renewed dedication to the Catholic Church. These prints offer a rare glimpse of Dali's sparsely produced work from the last two decades of his life and reveal the depth and diversity of his artistic approach.