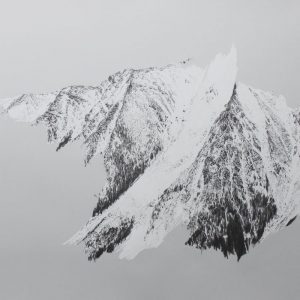 Red: Marilyn McAvoy & Ascension: Charley Young
Red: Marilyn McAvoy
Marilyn McAvoy's new work represents a continued interest in the study of Figurative painting. The inspiration for this work initially was fueled by song lyrics and her connection to having lived a life surrounded by live music and the shadows cast through to the backstage. The individuals who are represented are women who wove in and out of her life during this time. The backdrop for these paintings reflects the atmosphere of this time and space.
Ascension: Charley Young
This series of new drawings, based on helicopter travels through the Rocky Mountains, depicts a close and intimate passage through this alpine landscape. Mountains become fragmented and incomplete as perspectives shift and change — memory and movement of the artist's flight path mimicked and imagined.