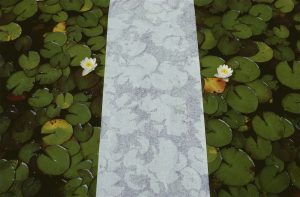 Places, Paths, and Pauses
This nationally-touring retrospective exhibition presents the work of prominent Newfoundland-based environmental artist and poet Marlene Creates, offering viewers a comprehensive and immersive experience of nearly four decades of her unique activities. Internationally-known for her work in photography, mixed media assemblages, and (more recently) prizewinning videos and poetry, Creates's projects explore the complex and layered relationships between people and the natural world they inhabit.
Organized by the Beaverbrook Art Gallery in partnership with Dalhousie Art Gallery and with support of the Museums Assistance Program.
Cutline: Marlene Creates, Paper and Water Lilies, Newfoundland 1982, photo-landwork from the series Paper, Stones and Water, 1979–1985, azo dye (Cibachrome) colour photographic print. Collection of Dalhousie Art Gallery