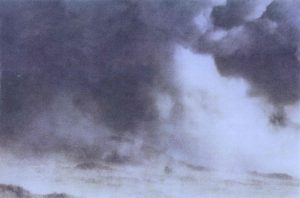 Over Time
Trained as a printmaker, St. John's artist Hazel Eckert collects found images from various sources, and explores how they alter over time through multiple reproductions such as repeated photocopies. Modified by chance and the characteristics of available technology, the images take on a life of their own as each version becomes distanced from the original context—decaying and mutating to the point of abstraction. Eckert documents the process in a series of textiles, allowing an immersive consideration of the physical nature of materials, and the changing cultural ancestry of imagery.
This new body of work was created as part of the Elbow Room Residency Series.
Hazel Eckert, Drift (detail), Photocopied image printed on textile, 2017.