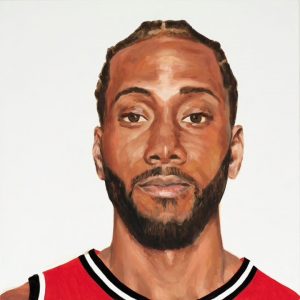 Joanne Tod. Kawhi Leonard, 2019. Oil on linen. 22 x 22 in. (Courtesy of Nicholas Metivier Gallery).
Organizing Principle
The 17 oil-on-linen paintings in Organizing Principle feature portraits of the NBA Championship-winning Toronto Raptors. The exhibition premiered this spring at Toronto's Nicholas Metivier Gallery, and the Beaverbrook Art Gallery presentation is its first public art gallery presentation.
Her Raptors series continues her long-standing interest in portraiture as a means to open discussions that range beyond art, encompassing issues of identity and diversity, fashion and fame, economic advantage and disadvantage, and the ways in which society pushes down collective desires only to project them onto social phenomena, such as sports competitions. She is fascinated by the magic that makes a human athlete a superhuman hero, or someone a fashion icon, or a museum object a priceless treasure.