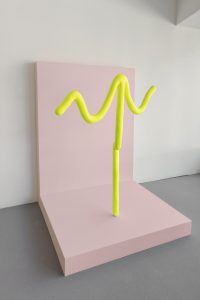 Role Model, 2017, 57x48x9 inch, steel, plaster, apoxie sculpt, paint, MDF (platform), photo Toni Hafkenscheid.
Oblique Choreography
June is busting out all over the Art Gallery with a lively and colourful exhibition of work by artist Jaime Angelopoulos. Oblique Choreography pairs sculptural and drawings in bold, playful and organic forms.