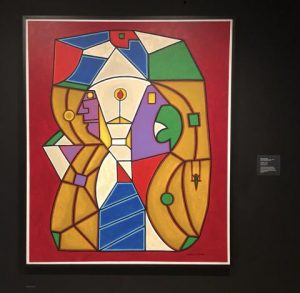 Installation view of David J. Brooks, Lifeforce, 2014, Acrylic on canvas, 153.0 x 127.0 cm. Purchased with funds provided by the Fred and Elizabeth Fountain Endowment for Contemporary Art and the Rowland and Margo Marshall Endowment, 2014. On view in the Nova Scotia Spotlight at the Art Gallery of Nova Scotia.
Nova Scotia Spotlight: David Brooks
David J. Brooks was the first Mi'kmaw artist whose work was collected by the Art Gallery of Nova Scotia (Migration, acquired in 1990). Born in 1950 in Truro, Nova Scotia, Brooks was raised and lived in Sipekne'katic First Nation (Indian Brook), Nova Scotia for most of his life. While living in Toronto in the 1980s, he met fellow Mi'kmaw artist Phillip Young, from whom he received much of his initial training. Within a few years, Brooks began to exhibit in multiple public and private collections throughout North America.