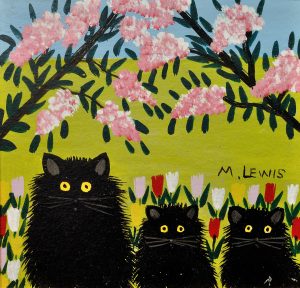 Maud Lewis, Three Black Cats, 1960s, Oil on pulpboard, 30.0 x 30.8 cm. Private collection.
Maud Lewis
An adjunct to the Terroir: Then and Now exhibition, this focus on Maud Lewis showcases examples of her artwork and is especially appropriate given the importance of Yarmouth as a place in her life. Her paintings clearly draw from her surroundings and memories from her childhood. From views of oxen teams working the fields to lighthouses standing watch along the rocky shores, Maud Lewis' paintings reflect the spirit of rural Nova Scotia and a life inextricably bound to the land and sea.
Maud Lewis (1901-1970) was born to John and Agnes Dowley on the Yarmouth and Acadian Shore of Nova Scotia. Although there is some debate about her exact birth place, recent research has revealed that Maud was born in the town of Yarmouth, Nova Scotia. The backdrop of her playful and colorful images, her only experience of the world extended to an area between her birthplace in Yarmouth County and her married home in Marshalltown, Digby County.
In the world of folk art Maud Lewis is a legendary figure. Her life and accomplishments have been celebrated far and wide in nationally touring exhibitions, publications, and, most recently, on the silver screen in the 2017 cinematic release Maudie.