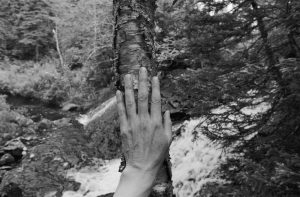 Marlene Creates, Excerpt from Larch, Spruce, Fir, Birch, Blast Hole Pond Road, Newfoundland 2007, An ongoing sequence of eighty-one black and white, silver photographic prints, (2007-2015), photo courtesy of the artist.
Marlene Creates: Places, Paths and Pauses
Presenting the work of prominent Newfoundland-based environmental artist and poet Marlene Creates, this exhibition offers viewers a comprehensive experience of nearly four decades of her unique activities. Since the mid-1970s, Creates' work has been presented in over 350 solo and group exhibitions and screenings across Canada and around the world, and it is also represented in numerous public collections.
Throughout her career, Marlene Creates has sensitively probed the relationship between human experience and the natural world, choosing a path that privileges the act over the artifact, the moment over the monument. From her earliest ephemeral gestures in the land to her latest immersion in the boreal forest that surrounds her home, her photo-based, multi-disciplinary practice has explored, as she puts it, "the idea of place — not as a geographical location but as a process that involves memory, multiple narratives, ecology, language, and both scientific and vernacular knowledge." Her lifelong engagement offers a timely occasion for re-envisioning our own places with attentive environmental and cultural consciousness.
Organized and circulated by the Beaverbrook Art Gallery in partnership with Dalhousie Art Gallery with the support of the Museum Assistance Program, Canadian Heritage.