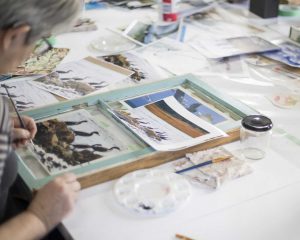 Looking Out, Looking In: Windows with a Community View
The theme of windows for this project takes its inspiration from Maud Lewis and the brightly coloured flowers she painted on her window panes. This theme was chosen to align with the goal of the project, which was to connect seniors to the wider community through arts-related activities.
A window allows us to see out and lets illuminating light in. Art can also let you look into your life; and others, when looking at your art may discover more about themselves. Maud's painted windows brightened her view on the world and allowed passersby to see the work of the artist who lived there.
The artworks on display here were made during workshops and events that occurred over the past year. The participants drew upon their own memories and experiences as inspiration for the art they created.
This project is funded in part by the Government of Canada's New Horizons for Seniors Program.