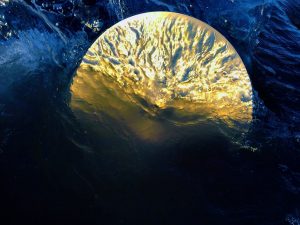 Lindsay Dobbin: Intertidal Cymbal Works
For the past few years, artist and musician Lindsay Dobbin has been investigating traditional drums and drumming in their Kanien'kehá:ka (Mohawk) culture. Through their project Intertidal Cymbal Works, Dobbin is exploring how drums and cymbals respond in a natural environment, particularly the Bay of Fundy. In this context, drums become subjects containing a myriad of possibilities when in direct relation to landscape, not just as sounding objects to be used in a specific configuration. They are mere materiality – something that rolls, floats, contains, erodes – gives rise to a whole world of possibility in terms of sound that responds to the natural world.
Through a monthlong residency and series of public engagement opportunities as part of the 2019 KREAM program, Dobbin will be translating this work into a performative sound piece that honours the animacy of drums and water as well as offering listening-based and sound creation workshops.