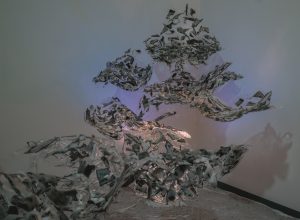 Ice Flows
Sealskin locked together with thread form evocative wall panels in this solo show by artist Clare Fowler.
Clare Fowler says, "whenever I handle sealskin I am taken to that place where I am viscerally aware of how the ice flows impact my place…our place."  Growing up on Bell Island, Fowler recalls the impact of the ice flows on daily life–being isolated, the near-empty grocery store shelves and the lack of mail delivery.  Seals and sealing were equally impacted.  Fowler uses quilting techniques to create lace-like compositions featuring sealskin that describe our place, people and psyche.
Clare Fowler is a St. John's based textile artist seeking to maximize usage of seal fur.