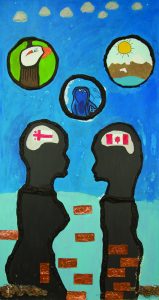 Guiding Principles
Guiding Principles is an installation of
ArtsSmarts
Nova Scotia 2018 project artwork. It was produced by Grade 8 students at Sherwood Park Education Centre in Sydney, Nova Scotia. An exhibition of full scale representations of the installation panels will be on exhibition at the Cape Breton Centre for Craft and Design from May 22 until June 7, 2019
For this project, local visual artist Kate Adams guided Elizabeth Lalonde and her Grade 8 students through an in-depth study of Dene Suline artist Alex Janvier's monumental artwork, Morning Star. The students also studied the Seven Sacred Teachings, a set of teachings on human conduct towards others. Many Indigenous groups follow their guidance.
Inspired by the teachings and Janvier's Morning Star, the students developed a design for Guiding Principles, the large-scale mural now hanging at Sherwood Park Education Centre. The mural reflects these Teachings and also focuses on resilience, respect, relationships and reconciliation.
"Over the years I have learned that our students are more willing to create, share their ideas, thoughts, and knowledge when asked to make something for someone else. In this project they will be the role models; showing their fellow students, as well as school staff and the larger community, how to navigate through school life."  – Elizabeth Lalonde, teacher at Sherwood Park Education Centre
This exhibition was made possible through the Art Gallery of Nova Scotia's ArtsSmarts Nova Scotia program with the generous support of Arts Nova Scotia and the Nova Scotia Department of Education.