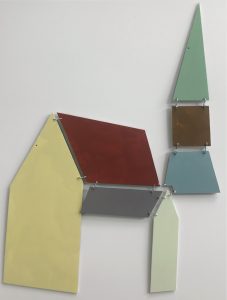 Emily Pittman: Unsettled
With this new body of work, Pittman has created abstract versions of the essential building blocks of community. A wall drawing and colourful forms suspended in space suggest churches, houses, lighthouses and other historic buildings. Pittman explores how concepts of community and home are carried with us. Communities are much more than a collection structures – their significance comes from our associations and connections to the people within. This work was developed during an Elbow Room Residency, a Rooms Provincial Art Gallery program that provides Newfoundland and Labrador artists at the beginning of their careers with the opportunity to work in a dedicated studio for three months towards an exhibition and publication.
Image: Emily Pittman. Working model for Unsettled. 2018. Painted foamcore and metal hardware. Courtesy of the artist.