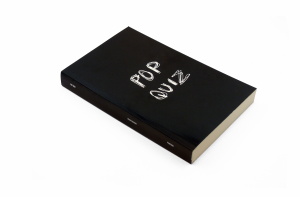 Dave Dyment, Pop Quiz, 360-page soft cover artist's book, edition of 500, numbered and signed by the artist (each with a unique handwritten question), 2010, photo: Courtesy of the Artist.
Dave Dyment: Pop Quiz
Pop Quiz is a collection of every question posed in the lyrics of every song in the artist's music collection.
Originally intended as a bookwork, the piece first existed as a looped video. Each time the work is exhibited it is updated to include new questions from more recent additions to the collection. At first just twelve minutes, the video is now almost four hours long.
Pop Quiz will be presented in a near continuous loop, activating the gallery's picture window and projecting outward onto campus from dusk to dawn.