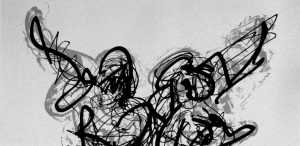 Alan Grabelsky. Butterfly (detail), 2018. Serigraph on paper, 57 cm X 76 cm. Collection of the artist.
Contemporary Printmakers of New Brunswick – I
Featured in our Prints and Drawings gallery, we present the first in a series of exhibitions of contemporary New Brunswick artists working in printmaking. In this installment, artists Alan Grabelsky and Ann Manuel both pursue a disciplined and spirited visual language that combines the figurative and the abstract.