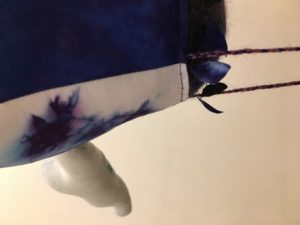 Renne Holloway, Untitled, Hand-dyed Cotton Fabric, 2019
Annual Member Exhibit
A showcase exhibit of the best fine craft made by the talented members of the Craft Council of Newfoundland and Labrador.
Unpredictable, varied and dramatic, this annual exhibit brings together traditional and innovative fine craft from across the province.  Textiles, ceramics, glass, metal and wood–and probably a few materials you've never encountered–are transformed into functional and nonfunctional fine craft objects.  The Annual Members Exhibit is a window onto the studio activity of emerging, mid-career and mature crafts producers.
During the Annual Members Exhibit awards are given out to recognize outstanding craft objects in the areas of technique, design and innovation.