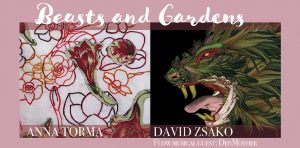 Anna Torma and David Zsako: Beasts and Gardens
This exhibit features two artists working with diverse media to explore themes of nature, creating a modern bestiary.
Anna Torma, is an artist/embroiderer based in Baie Verte, N.B. whose work reflects her interest in the life cycle of gardens, historical episodes and medieval bestiaries. In this exhibit she will be displaying a series of embroidered wallhangings influenced by a recent residency in France where she encountered a series of Medieval tapestries at the Chateau d'Angers commissioned by Louis I, the Duke of Anjou, depicting themes of the Apocalypse.
Anna Torma, who graduated from MOME in Budapest, Hungary in 1979 and emigrated to Canada in 1988, has elevated embroidery to become a respected contemporary artform in New Brunswick. She has received Creation Grants from ArtsNB in 2017 and 2015, a Long-Term Project Grant from the Canada Council in 2013, the Lieutenant Governor General's Award for High Achievement in the Visual Arts in 2014, The Strathbutler Award in 2008. She has exhibited her work regionally, nationally and internationally. Her work was selected for Writing Topography: Marion McCain Exhibition at The Beaverbrook Art Gallery in 2015, for the Canadian Craft Biennial at the Art Gallery of Burlington in 2017, and at the Esker Foundation in Calgary in 2018. Her work will be featured in a major exhibit at the Textile Museum of Canada in 2020.
David Zsako is an emerging artist based in Halifax, N.S. whose work using large scale digital collages presents unique and unsettling arrangements of flora and fauna. His use of technology in the form of advanced imaging software and state of the art digital printers is in direct contrast with the biological nature of his subjects, which are not programmed externally but programmed from within to flourish, wither and die.
David Zsako studied at NSCAD and graduated in 2006 with a BFA in Photography. He has exhibited in Calgary, Hamilton and Hungary as well as at the Struts Gallery in Sackville, the Trinity Gallery in Saint John, and at the Centre des arts et du la culture de Dieppe. In 2007 he was a workshop leader at the CHAC Tantramar Arts Symposium and featured in Iniciativa Collectiva, in October 2009. This will be his first exhibit in Fredericton, N.B.