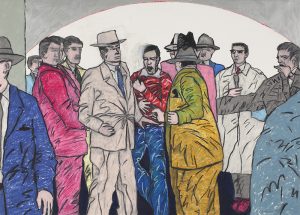 Herménégilde Chiasson, Fourteen Stations for Oswald, 1. The Condemnation, graphite, pastel, and oil stick on Vinci paper, 1990, photo: Collection of Owens Art Gallery. Photo: Roger Smith.
An Elsewhere Forever Present / Un ailleurs toujours présent
The point of departure for this exhibition is Fourteen Stations for Oswald (1990), a series of evocative drawings by Herménégilde Chiasson found in the permanent collection of the Owens Art Gallery. In 1990, Gérald LeBlanc wrote a poetic essay about this work that concluded, "Herménégilde Chiasson proposes/sensible dreams/of an elsewhere forever present." Moving out from this idea, the exhibition explores the ways in which historical, popular, and familial stories intersect in the work of four Acadian artists. While the question of identity is clearly present in these works, it is not rigidly defined or reduced to simple nationalist stereotypes. Of equal importance is the notion of repetition as an aesthetic gesture and its relationship to time and memory.
The exhibition is accompanied by an Occasional Paper featuring an essay by writer and independent curator Elise Anne LaPlante.
This exhibition was organized in conjunction with the Congrès acadien mondial 2019.