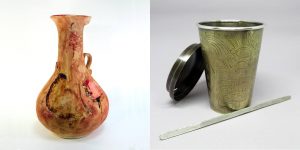 Adaption: Kaashif Ghanie & Disposable Income: Nicholas Rosin
In these paired solo exhibitions, emerging artists Kaashif Ghanie and Nicholas Rosin exhibit new bodies of work created during a nine-month artist residency at the Centre for Craft Nova Scotia. With different approaches both artists address issues affecting their daily lives, materializing their conflicts with a challenging society in vessel forms.
Images left to right: Ointment, Kaas Ghanie, Colored Terra Sigillata, 22″x15″x15″, 2018 photo: Kate Grey. Pick Me Up, Nicholas Rosin, brass, silver, 3 ¼"x3 ¼"x4 3/8", 2018.